Reality check: Augmented Australia 1914–2014
"What might have been and what has been
Point to one end, which is always present."
– T.S. Eliot, Burnt Norton
Australia's contribution to the 14th International Architecture Biennale in Venice is twofold: providing a temporary Australian Pavilion while the new pavilion is being constructed and structuring a national response to the research-centred theme Fundamentals, through which director Rem Koolhaas asks participants to consider Absorbing Modernity 1914–2014. The creative team felix._Giles_Anderson + Goad created a challenging, playful and valuable national project, Augmented Australia 1914–2014. Essentially in three parts, the content takes form both physically and virtually – a temporary pavilion providing physical gravitas and orientation; a downloadable app and catalogue; and a set of digital re-creations of unrealized projects, including eleven Historical 1914–1988 (articulating Australia's Modern period), eleven Contemporary 1988–2014, and the new Australian Pavilion by Denton Corker Marshall.
To digitally produce these unbuilt public Australian architecture projects and locate them in Venice using the global positioning system (GPS) is compelling, not so much in terms of re-creating what might have been, but rather to augment reality – to make our "always present" reality greater by interlaying virtually regenerated history with phenomenal currency, a renaissance of sorts. Now twenty-three unbuilt projects exist as accessible facts, real works that lure the mind and perhaps, in a manner akin to John Hejduk's drawings, provoke other ways of seeing and thinking about architecture. Augmented Australia is a type of conjuring, in which we enact a séance of sorts, bringing to life works that may otherwise have lain dormant for too long, or perhaps forever.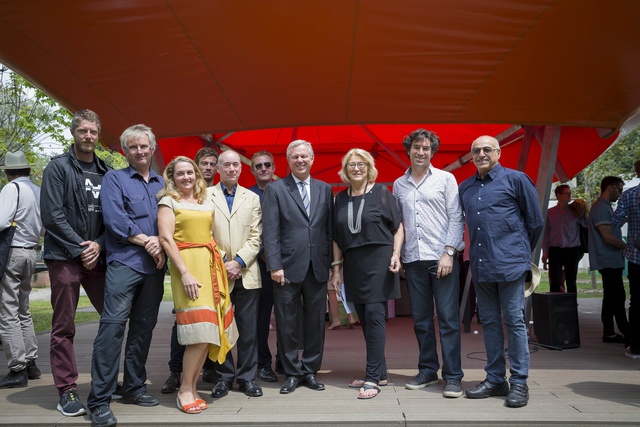 The creative team. L–R: Craig McCormack, Simon Anderson, Sophie Giles (curator), Matt Delroy-Carr, Philip Goad and Rene Van Meeuwen (curators) with Ambassador Mike Rann, Janet Holmes A Court (Australian Pavilion Commissioner), David Karotkin (national president of Australian Institute of Architects), and Brian Zulaikha (Australian Venice Architecture Biennale Committee Chair).
…the temporary pavilion assuredly creating a place where public celebration and new ideas are introduced in the space between a plateau and a sculptural roof…
While the Swiss Pavilion showcased the Fun Palace by Cedric Price as an exemplar of architecture facilitating modern public life, across the canal on a day filled with life and sun people were simply doing it – gathering naturally among the trees, below and beside the temporary Australian Pavilion, an orange tent known as Cloud Space, to celebrate the opening of Augmented Australia. In the background of the opening's formal proceedings, on slightly elevated steps, I observed the first major success: the temporary pavilion assuredly creating a place where public celebration and new ideas are introduced in the space between a plateau and a sculptural roof, the setting recalling the plateaus and platforms covered by clouds, sculptural forms and temple roofs that Jørn Utzon used to illustrate his thinking about public architecture.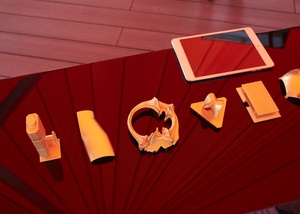 3D printed models of the unbuilt project exhibited in Augmented Australia. Image: Peter Bennetts
Cloud Space creates a physical location to which visitors are attracted, then given access to the invisible "data cloud" which holds the vital (and virtual) content. Within the shadow of the tent, visitors experience Australia's "lost architecture," initially as golden 3D printed models and physical images mounted on stands, one for each unbuilt work, and then via digital augmentation as digital models, renderings and explanatory interviews. The full experience is made possible by an app, which visitors can download via smartphones and tablets carried by pavilion volunteers. Personal devices are then used once the app is downloaded. This slightly cumbersome process is time-consuming and requires some patience, but once set up the whole thing comes to life – curious, intriguing and thought-provoking. The physical structure is absolutely necessary and works to attract people to the exhibition; however, given the limited time available to biennale visitors (and the process of familiarization required), as a fundamental work of architecture the pavilion should also serve as an intriguing thing in its own right. It needs to hold visitors a little longer, creating a pause space in which you are compelled to linger while downloading the app and connecting to the data that allows full experience of the content. The pavilion in this context is a little too "conventional."
Once downloaded, the Augmented Australia app gives users access to content via their own mobile devices. This is the exhibition's ingenious quality. It doesn't all happen in the pavilion; we don't just go to the exhibition; we are invited to take the exhibition "with us," accessing content whenever we like, either through the catalogue or by visiting the projects via GPS systems embedded in our handheld devices. The app acts as a radar to locate the twenty-three 1:1 scale models geo-positioned around Venice, then, once there, augments our experience by presenting each project as a digital space. I will not forget passing below Minifie van Schaik's Caught Unawares, augmented through my phone, causing me to perceptually oscillate between the movement of the vaporetto, the spectacle of the Grand Canal, the intrigue of Caught Unawares and memories of Sydney Harbour. The virtually located projects do not diminish Venice, rather they add to your spatial practice and perceptual knowledge.
[embedded content]
Human cognition is sparked when mental constructs and phenomenal experience coincide. With app inhand, unbuilt structures are perceived and mentally constructed while you are physically immersed in the city of Venice. In Augmented Australia we are presented with a certain type of strange-making, a layering over and de-familiarization with Venice and Australian architectural history. If you can't get to Venice in 2014, find a copy of the catalogue. It provides access to an extraordinary world.
See more virtual tours via the Augmented Australia Youtube channel.
ArchitectureAU – Reviews
Bài Liên Quan:
Không có bài liên quan.