Why I want a Great British Bake Off boyfriend (preferably with a pencil behind his ear)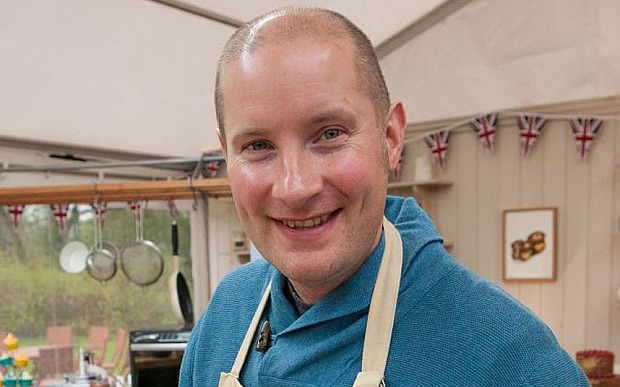 Richard Burr has fast won a place in the nation's hearts Photo: bbc
It started with a cheeky smile. Then came a set of very precise paper templates. Finally, the clincher: a small blue pencil tucked behind the ear.
Yes, it's undeniable. Richard is this year's Great British Bake Off favourite.
And I'm not just talking about housewives.
The 38-year-old from north London doesn't even need a surname (it's Burr, in case you were wondering). Move over Bob. 'Richard the Builder'- as he's been dubbed on social media forums across the land – is here. And he's ready to fix it with a toolbox crammed full of delicious pirate biscuits and oozing pesto pinwheel bread.
I knew something was up after the first episode. My inbox – normally crammed full of conversation about Mary Berry's latest floral jacket and the odd recipe for a Victoria Sandwich – was buzzing about the builder.
"He bakes, but is manly," gushed one friend. "He decorates things in pink, but is STILL manly".
Humble, delightful, smiley. All these words came tumbling out from my excitable friends. Even his admission that, when his wife put him in charge of their wedding cake, he made one in the shape of the Star Wars' Millennium Falcon – and the fact he seems to wear the same cornflower blue jumper every week – couldn't dampen their ardour.
OK. Our ardour. For, as week three of GBBO comes and goes, one thing has become clear. Richard has made me want a Bake Off boyfriend.
It's a feeling that's been bubbling, like a hot cherry pie, for a couple of series. James Morton started it in 2012, when he modified his crumbling gingerbread house with caramel cobwebs (genius).
Of all the things I ever expected to want a man to do for me, this wasn't one of them. I'm a feminist, for goodness sakes. I can make my own cake – and eat it.
Richard on his Twitter profile
Except.
Let's look at the facts. Richard, we are told by the BBC, is a keen 'family man'. He cycles. He fishes. He DIVES. He has 'his own allotment in his back garden and volunteers for the National Wildlife Trust'. Swoon.
'He is teaching his daughters eco-friendly ways to help animals by building homes for hedgehogs to hibernate in'. Gasp.
He grew up on the same street as his wife, lives near his parents and says he can't bear the thoughts of disappointing Mary Berry.
It's enough to make even the stiffest of peaks soften.
Twitter agrees. In the social media game of 'snog, marry, avoid' – the builder walks down the aisle every time.
Twitter: Ellie Duffield – right , back off ladies Richard is mine for the marrying. #GBBO #breadweek
Twitter: Cat – I've got some DIY that needs doing and I love cake. Do you think I can kidnap #GBBO Richard and keep him under the stairs? @BritishBakeOff
Twitter: Alice – I want to marry a man like Richard and have a father in law like Norman #GBBO
Of course, the reality of a baking boyfriend, or husband, might turn out to be rather different. Yes, the smell of fresh bread might be a welcome Sunday morning wake-up call for a few weeks. But what about when you're desperately trying to resist temptation? Or find the kitchen covered in flour again? And just imagine all the tupperware.
But as long as Richard remains a weekly on-screen treat, my Bake Off boyfriend fantasies look set to burn brightly.
And Richard. Dick – can I call you Dick? – if all else fails, perhaps you can release a line of pencils. After all, we need something to write all those fan club letters with.
Wonder Women
Bài Liên Quan:
Journalists check facts that judges don't Vote 2015: Generation Y wants its political leaders to talk their language on YouTube Instant Expert: How to get back into dating Dear Graham Norton: my partner's breath stinks